BY KHAMA LINCOLN
THIRTY plus young surfers brave the waves this week at Paeloga Break Gizo Island, as they joined the Western Solomons Surfing competition, organized by Western Solomons Surfing Association, (WSSA) bringing back "Surf Tourism" to Western province.
Speaking to Tourism Media on Tuesday, WSSA President Jeremy Baea said, WSSA which started in 2014 and held its first surfing competition in 2016, has created opportunities for young people in the communities and before the COVID pandemic, youths became surf guards as well as repairing surf boards.
"We organize the event to continue promoting surfing for young people and also to do environmental awareness, he said, also to continue promoting surf tourism, at the two sites, Paeloge and Titiana."
Baea also mentioned a program called "Ocean Waves initiative" which have provided a space for youths to become surf guards for tourists as well.
"There are a lot of opportunities before COVID but because of the it, the program stopped.
The program trained youths to become surf guards and most of our sponsors like Papatura and Tourism Solomons, we're all affected," He said.
He pointed out, before the pandemic, during surf season from November to April about 20 international surfers of both genders used to visit the sites for surfing fun.
"We still manage to organized small programs, he maintains, we continue our presence in social media, we don't want it to die out."
He stressed their challenge is getting surf boards, as the pandemic makes it difficult for WSSA to acquire equipment from overseas.
"We struggle to find equipment, He said, now we repair broken surf boards and re-use them. Most of our surf boards are in Australia."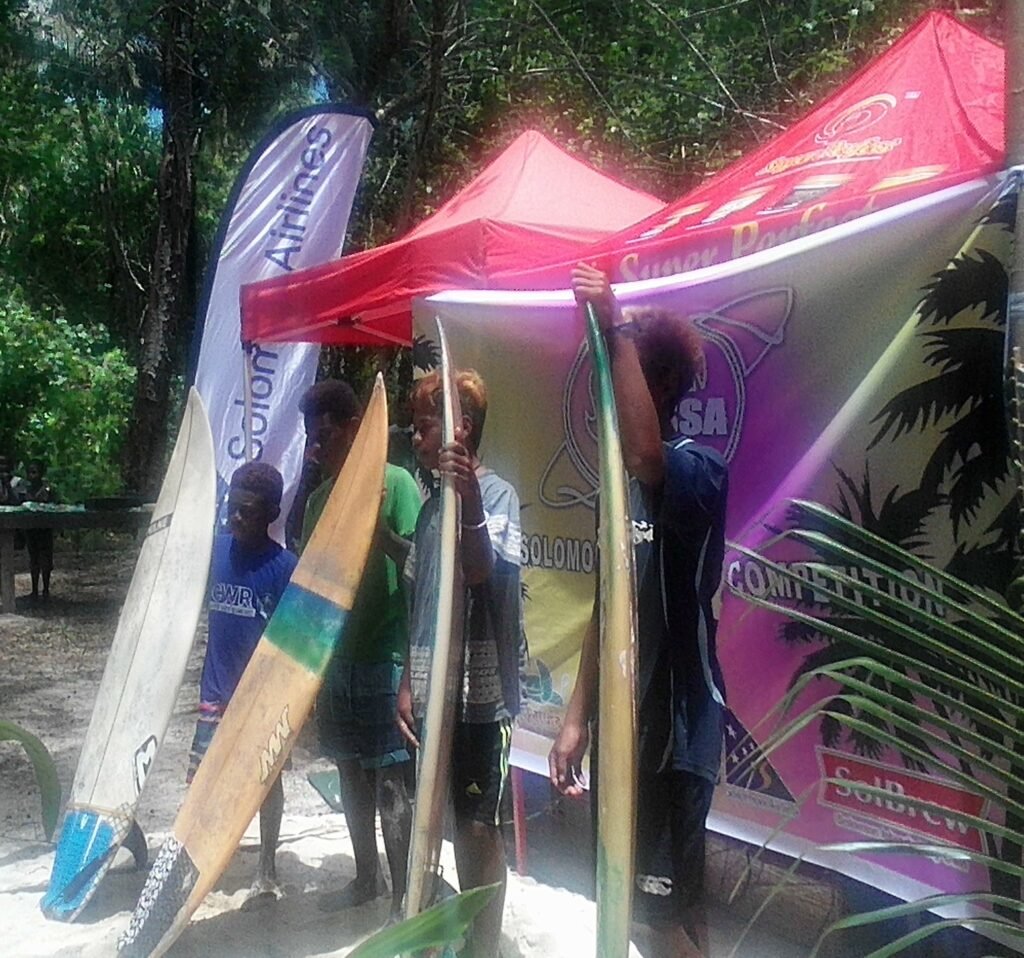 Jeremey mentioned that there are expats who also wants to assist the WSSA.
He also acknowledges the media for coverage on various platforms.
This week's three days surfing event registered fourteen surfers for senior category and twenty-four juniors.
Judging categories focused on Wave selection, Maneuver in the Waves and Ariel Jumping on a total of ten points each. Surfers with the most points wins.
Meanwhile, Tourism Solomons' Marketing Officer, Brenden Mautoa said, as one of the major promoters of Surfing in the country, Tourism Solomons is working closely with WSSA since its inception, to continue promoting Surfing in Gizo as a Tourism Niche Product.
"At the moment since the closure of international borders, we're trying to promote domestic tourism events," he said, "The idea is to get people back to the province to support the economy. And Tourism Solomons as a major sponsor is to market the events.
"There are a lot of interest from outside, they are just waiting to come," he added.
"Although the borders are closed, at least we keep the confidence for international Tourists.
"Solomon Islands is still here, and we don't make them lose hope."
Since opening of the event on Tuesday at Paeloge, local government representatives and people of the community come out to support the youths, an event which also promotes unity and conservation of shoreline and sea environment.